Follow us and support us!
We call for the return of VIA Rail passenger trains to New Carlisle in 2024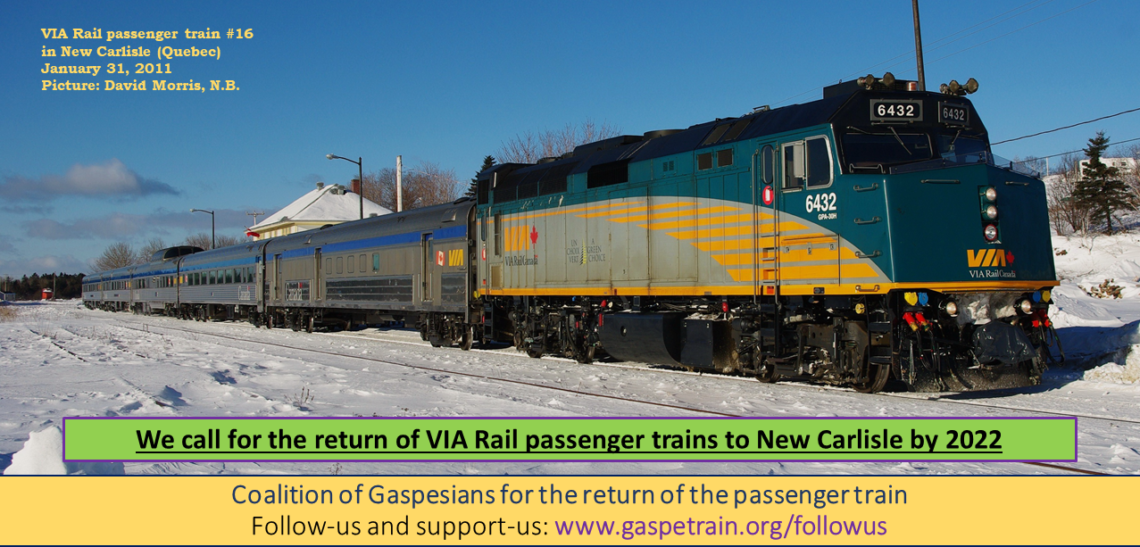 Follow us …
In this page, you will find the main references through which you can follow the project to bring the train back to Gaspé. We are talking here mainly about the passenger train and the freight train.
Our website contains a lot of information available to you:
Press review of over 1,900 articles (in French and English), which have been published over the past 10 years; our press review is updated daily;

Monitoring of the work in progress aimed at putting the rail back into operation as far as Gaspé;

Support from the municipalities that are supporting the rail project to Gaspé;

Search engine and keywords (more than 740 available), which allow you to find published articles;

Concrete actions on your part to advance our common project; write to your MP, to the Minister of Transport of Quebec, to your federal government representatives to ask for their support

All together for a return of rail to New Carlisle by 2024, as a first step
We regularly publish news articles related to the Gaspé Railway; stay informed, check out our Facebook page at:
View our English Facebook page daily – many pictures and follow up of work that is in progress
"Help Save the Matapédia to Gaspé Railroad!" an English support group page on Facebook managed by: Anthony Bernard Prince from Port-Daniel-Gascons a member of Coalition of Gaspesians for the future of the train since 2014. Our main objective is to put pressure on the provincial and federal governments to repair the entire Matapedia to Gaspe railroad for both freight and passenger train service. As soon as the repairs are finished we will work for the rapid resumption of VIA Rail's passenger train service to New Carlisle as a first step and then Gaspe. We also support all freight traffic on the Matapedia to Gaspe line. We know that freight traffic is the key to the survival of our railroad. Check out this page often for all the latest news about the Matapedia to Gaspe railroad in English.
To access this group, click here: https://www.facebook.com/groups/214271542097478
We regularly posted tweets on the Twitter network; keep yourself well informed of our plan to return VIA Rail passenger train services and freight trains to Gaspé.
Support us
Support us: A few hours of availability to devote to each month on a voluntary basis can help to advance our project.
Volunteers needed: Would you like to get involved as a volunteer in order to advance the return of the passenger train between Montreal and Gaspé? Check out the following page of people we're currently looking for –

more info here
Last update :
| www.gaspetrain.org/follow-us-support-us | v22.146 pr